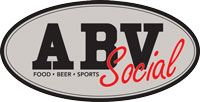 Food. Beer. Sports. That's what we're all about.
ABV Social is an eclectic sports bar with an expansive craft beer program and distinctive, classic American food – all housed in an industrial warehouse environment. It's the perfect place to grab a beer, watch the game, eat some exceptionally great food, and challenge your friends and family to one of our many games either inside or out on our patio. 
Beer is our passion and we have over 20 beers on draft including a wide selection of well-known favorites as well as some very special, hard-to-find craft beers. ABV Social features a delicious menu full of perfected bar classics like burgers and wings, along with unexpected dishes that you can only experience here. 
Centrally located at the Mayfair Collection in Wauwatosa just off I-41 and Burleigh, come and hang out at ABV Social for beer, food, and sports!
Store Hours and Information
Sunday
–
Wednesday
: 
11:00 a.m. to 9:00 p.m.
 (Bar: last call 
9:45 p.m.
, close 
10:00 p.m.
)
Thursday
–
Saturday
: 
11:00 a.m. to 10:00 p.m.
 (Bar: last call 
10:45 p.m.
, close 
11:00 p.m.
)
Contact: 414-837-6290